The best of the central archipelago in one experience
For this 3 day experience we have combined wilderness & wild camping in the Hjälmö-Lådna nature reserve with a comfortable "archipelago classic", namely the island of Grinda and a stay at the Grinda Inn. The first two days are spent kayaking and wild camping together with your guide in the beautiful Hjälmö Lådna Nature Reserve. For the last part of the trip, you discover the island of Grinda, one of the most popular archipelago islands and have comfortable accommodation at the Grinda Inn. This experience is created in collaboration with Grinda Inn.
Combine wilderness with comfort at Grinda Inn
The first night, waves and wind will put you asleep as you wild camp in the nature reserve of of Hjälmö-lådna. After our guide cooked you dinner and with our quality camping gear we dare to say you will sleep like a baby. The second day you eat and lodge at the Grinda Inn, a real archipelago Classic!
Three days, two nature reserves
This experience combines visits to two of the most popular nature reserves in the central archipelago. The Hjälmö-Lådna Nature Reserve is a lush pearl frequently visited by vacationing locals, and the whole island of Grinda is a nature reserve with trails, beaches and forests to discover.
Experienced guides
Our team of guides will lead the way out into the beautiful wilderness of the archipelago, in a safe and relaxed way. They will sort all kayak and camping equipment for you, arrange a great food menu, and make sure you have a good time. They are educated Nordic Outdoor Guides, certified kayak guides, and with a love and respect for Scandinavian nature and sustainable travel.
What we have included in the package
A full-service experience with everything you need from start to finish, guided by one of our professional kayak guides.
Transfer from Stockholm city center our kayak center

2 days of guided kayaking with all necessary kayak gear and a certified guide

One night of wild camping in Hjälmö-Lådna nature reserve with top quality camping gear

One night in double room at Grinda Wärldshus, including 3-course dinner, breakfast and lunch

A full day at Grinda that can be spent as you please, for example hiking, biking or visiting the beach

2 lunches, 1 dinner, 1 breakfast and snacks while kayaking
Please note: The return back to Stockholm is done by Waxholm Ferry and the ferry ticket is not included as it must be purchased on board the boat (~150 SEK/person).
Duration: 3 days
Departure dates: May: 18, 25. June: 1, 8, 15. Aug: 24, 31.
Sep: 7, 14, 21.
Pick-up point for transfer: Stockholm City, Hotel Scandic Downtown Camper
Fitness level: Low/Medium
Prerequisites: Able to swim >200 meters, maximum weight 120 kg per person. Kayak beginners are welcome!
Group size: 2-10
Age limit: 18 years, or 12 years if accompanied by adult
Payment: Secure online payment when you make your reservation. A 20 % deposit at the point of booking, remaining is due 2 weeks before departure
Price from 9 200 SEK/person
(excl. taxes & fees)
Day 1 – from the city to wilderness
We will pick you up at a central location in Stockholm city for a 60 minute transfer out to our Kayak Center. You will be welcomed by our certified wilderness and kayak guide who has prepared all your gear and will be ready to introduce you to kayaking and the archipelago. After packing and some introduction (perhaps accompanied by some cinnamon buns) you set out on the water and begin your journey into the Hjälmö-Lådna nature reserve together with your guide.
The kayak is the ideal vessel to discover the hundreds of islands in this part of the archipelago, as you can discover the nature and sea along the shorelines of the islands you pass by, and you can pass narrow and shallow passages that are unavailable to other vessels. In the late afternoon, you arrive at your own little camping spot where you will wild camp for the night, carefully picked by the guide. The guide will show you how to set camp and together you will cook a delicious meal on the portable outdoor stoves. After watching the sunset over the water and islands, it is time to let the sounds of the waves and wind put you to sleep.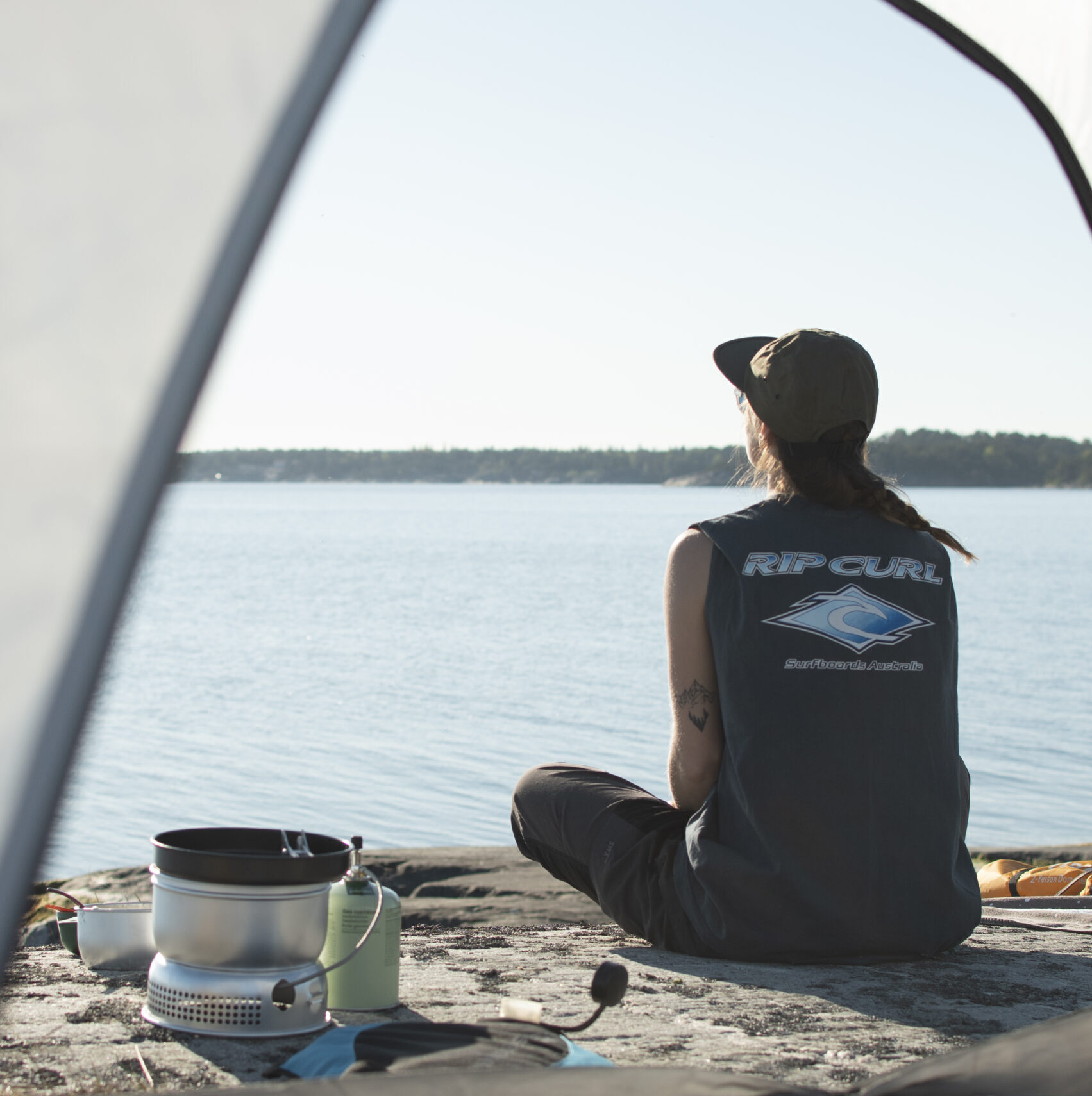 Day 2 – A day on the water
Few things beats waking up in nature on an island close to the water. For the brave, a brief morning "wild swim" in the sea (an archipelago classic) will wake you up, but a mug of coffee or tea will also do the trick. After eating a nice breakfast, it is time to break camp and pack the kayaks for the day on the water. Today is discovery day, and on the way to the island of Grinda, there are many skerries, islets and islands to discover. Along the way to Grinda, you will make some stops for snacks and lunch that you will cook together. Why not stop at a nice spot for some afternoon sunbathing if the weather allows for it?
In the afternoon you will arrive at Grinda, where you will check in at the Grinda (Grinda Wärdshus). After helping you check in, the guide will bid you farewell and return with the kayak and gear to the kayak center. Enjoy a relaxing sauna before the 3-course dinner at the restaurant and a nice sleep in a comfy bed.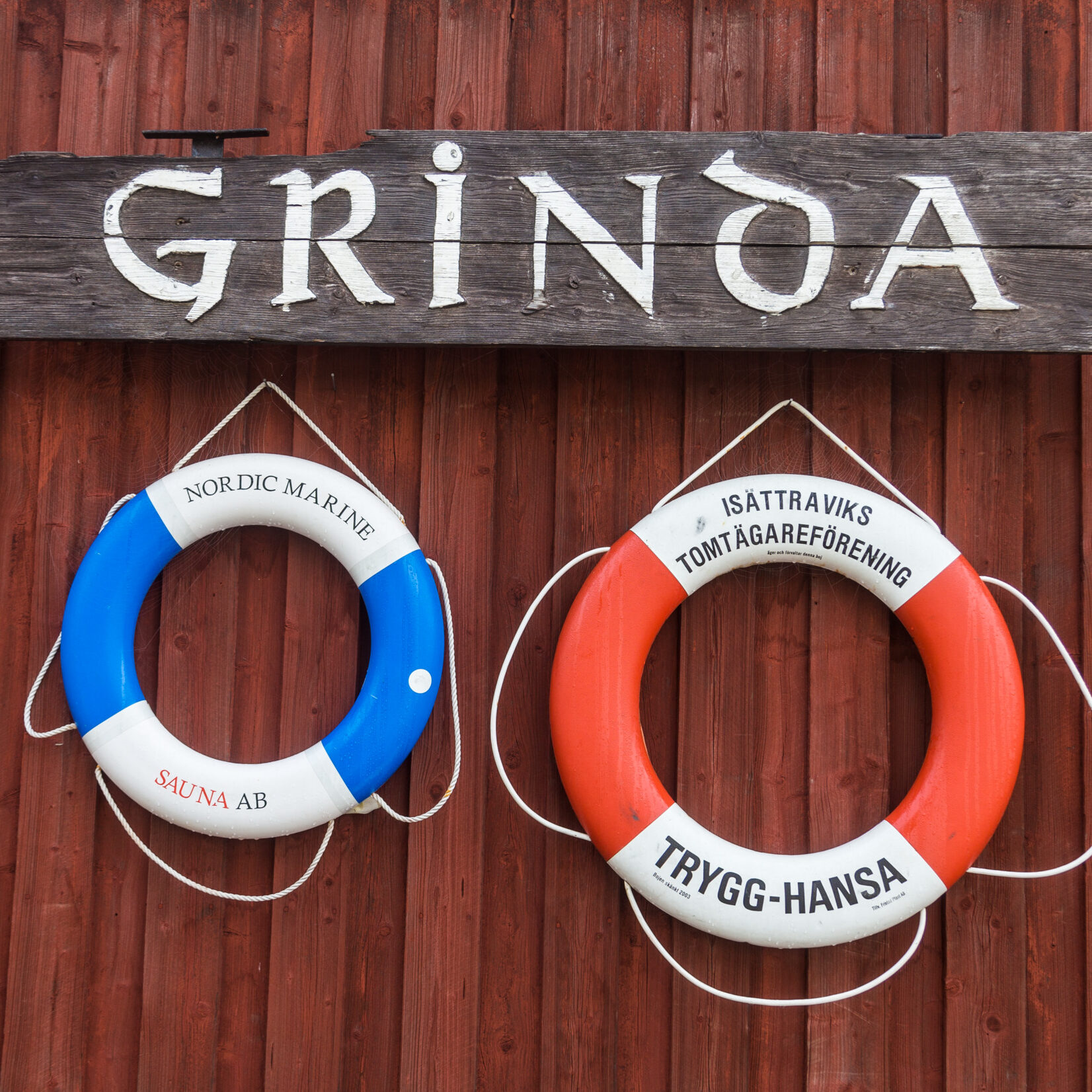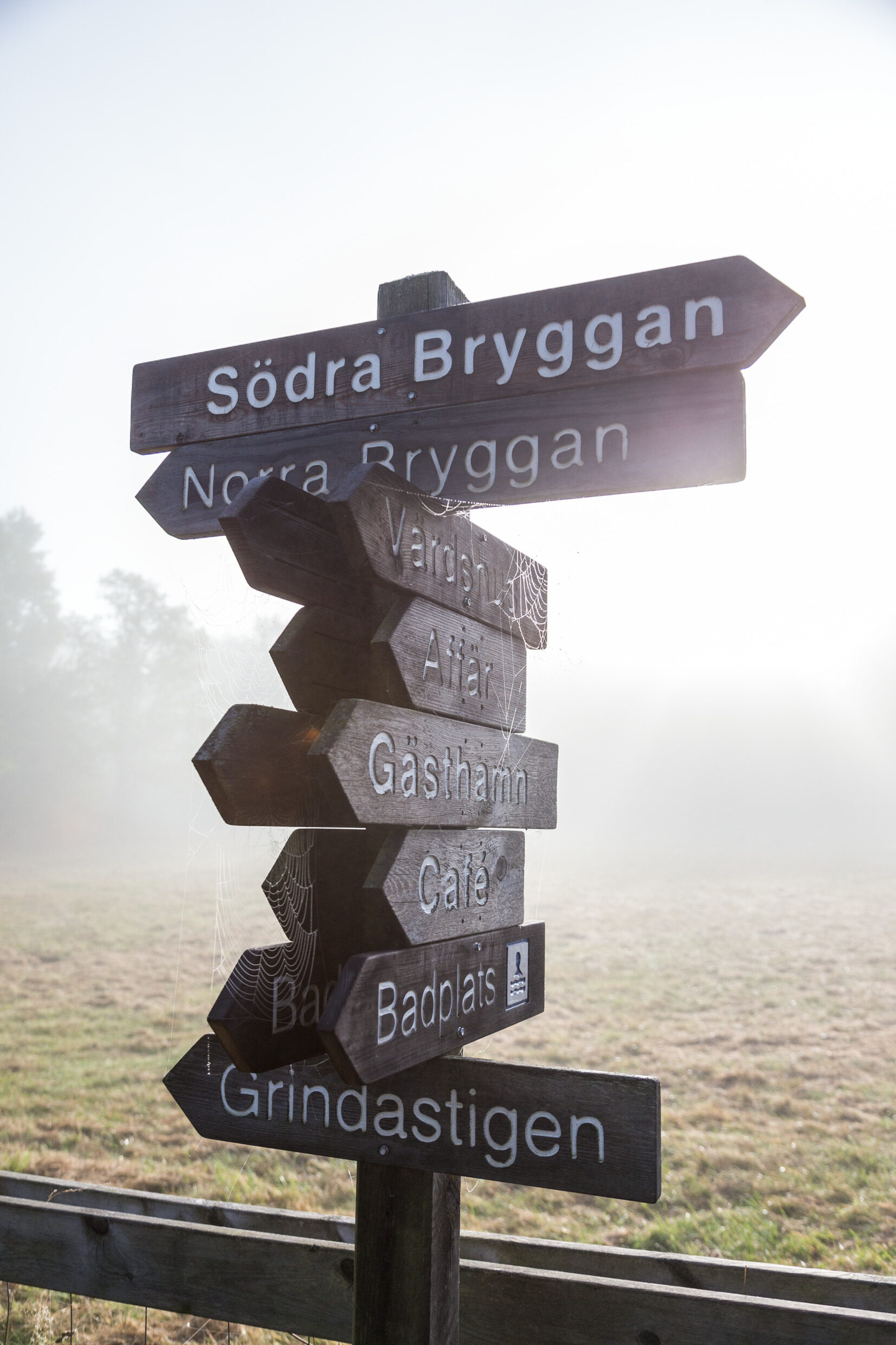 Day 3 – Discover Grinda
Grinda is perhaps one of the most popular islands to visit when leaving town for an archipelago excursion. Most of the island is a nature reserve that is owned by the non-profit organization Skärgårdsstiftelsen (Archipelago Foundation), whose purpose is to preserve the island's nature. After a nice breakfast buffé, there are a lot of things to do and discover. There are trails around the islands which you can discover by hiking or biking. Find your own small beach and just south of Runmarö with a lot of activity during summertime. Visit the restaurant in Solvik, show for snacks or have a swedish fika at the café. The watch tower on the northern part of the island is popular, as is the public sauna in Långvik. There is also trails for shorter day hikes.
The Lazy day is a very underrated alternative in this world of speed, tight schedules and constant demands to deliver. Dare to go against the stream and plan a day of.. nothing! Sleep in, discover the island you are currently on, or just chill on the cliffs with a good book. It is when you cut yourself some slack that the famous "quality time" happens.